Guidebook pages 7 to 10, Sant Feliu to Platja d'Aro
This section includes:
the town of SANT FELIU DE GUIXOLS
S'AGARO
and PLATJA D'ARO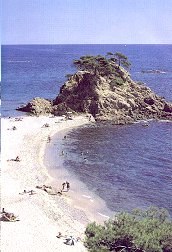 Upon descending into the natural port of San Feliu de Guíxols, the corniche ends abruptly just below the town's most famous monument, the horseshoe-shaped tenth-century door at Porta Ferrada. San Feliu lies encircled by hills and, despite being a resort, still feels like a real town, with only low-rise buildings, and a pedestrian Rambla surrounded by busy commercial streets. The narrow beach of golden sand is backed by a broad Passeig de Mar, lined with plane trees and a few modernist buildings. It is an agreeable stroll through the flower gardens and petanc courts to the yacht harbor-- the fishing port lying just around the promontory crowned by a lovely modernist villa, now home to the local Red Cross. The old town, laid out on a fairly regular grid pattern, is commercial but pleasant, with plenty of decent cafés with outdoor terraces, and there's a large daily market in the central Plaça d´Espanya.
San Feliu owes its attractive buildings and air of prosperity to the nineteenth-century cork industry which was based here, but the origins of Sant Feliu go back to the tenth-century, when the town grew up around the Benedictine monastery whose ruins still stand in the Plaça Monestir. (Now the Museu de la Vila, with an interesting exposition about the cork industry. The collection includes of all manner of artifacts fashioned from cork, as well as some old Catalan glasswork, and a few paintings). The town cemetery ( first right turn uphill after Plaça del Monestir on road to Tossa, beyond the bullring and the football stadium) has a neoclassical wall dating from 1833, and houses numerous pantheons and tombs in different turn-of-the-century styles.
Market on Sundays. The typical almond-based sweets in the shape of corks, trefins, are best at La Vienesa on Rambla Vidal 33. Casellas is a good wine and liquor shop, carrer Clavé, 9. The best selection of fresh fish in town is found at Sara, on the main road out of town, Carretera de Girona 2. Prepared fish is best at Casa Callol i Callol on Sant Domènec 7. Antiquities at Plaça d'Espanya 8. Fiesta major is celebrated the first week in August.
The most famous restaurant in San Feliu is the original Eldorado Petit, Rambla Vidal, 23, (972 32 18 18). Its creator, Luís Cruanyas, who is from Sant Feliu, later started offshoots in Barcelona and Manhattan. Shrimp canelones, marinated cod salad, fideuá (pasta-based fish stew), beef sirloin with mustard and rosemary sauce, custard ice-cream. In the off season they have a lunch and dinner menú which is very reasonably priced, though I suggest you consider not sticking with the plonk wine offered with the menu. The El Dorado can be very full, and they have started packing tables in too tightly at midday. A good alternative would be Can Segura, c/ Sant Pere, 11 (972 32 10 09) which has good midday menus and attracts a mixed crown of mostly locals. Can Toni, at Sant Martirià 29 (972 32 10 26), has been a popular family restaurant in the heart of the old town since the beginning of the century. Fileted anchovies, grouper with sea urchin and sweet fresh green onions, young pigeon with cod tripe and shrimp, boiled fish, and wild game. L'Infern at Sant Ramon 41 (972 32 03 01) serves good seafood in a pleasant garden patio. La Plaça has a menu del día, with tables outside on the Plaça d´Espanya. The Club Nautic at the far end of the harbor in among the yachts is nice for the sea views. La Cava at Maragall 11 (closed Wed) is a good place in the old town. The Moorish-inspired Modernist building housing the Nou Casino de la Constancia across from the port at the far end of the Passieg has become run-down but can still be good fun for a drink, and you can watch the old timers fleecing each other at cards and dominoes. Sant Feliu has a scuba diving club operating out of the Hotel Eden Rock. Call me for info.
DETOUR: Should you turn inland at Sant Feliu on the C250 towards the sleepy agricultural town of Llagostera, (with its fifteenth-century gothic church of Sant Feliu set high above the once- fortified stronghold) you'll come across one of the Province's most popular restaurants, Els Tinars, km 25, (972 83 06 26). Escalivada with anchovies, black rice or noodle fish casserole, eggplant stuffed with pigsfeet, croquettes, ox-tail stew, oven-baked hake, chocolate soufflé, etc. This is a pleasant area of towns full of summer villas and lush countryside dotted with masias, some of which have been converted into restaurants or horseback-riding clubs.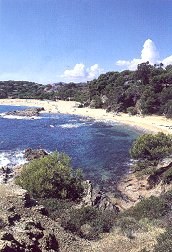 A few kilometers north of Sant Feliu's fishing port is a very nice low-keyed beach resort at Sant Pol, its promenade backed by some nice modernist houses. The northern promentory of Sant Pol is occupied by the Hostal de la Gavina - one of the Costa Brava's premier hotel/restaurants - in the pleasant resort of S'Agaro. S'Agaro is the brainchild of a locally famous entrepreneur, José Ensesa, who, in 1923, created an up-market housing development centered on the hotel and its good calas. He encouraged friends and associates to build villas around it in the same noucentrista style, and also cut a promenade along the cliffs. Even before the Spanish Civil War it was attracting a fashionable crowd from the French Riviera, and when Ensesa extended it after the War, it became famous because of the visits of film stars such as Ava Gardner, Frank Sinatra, Orson Welles, Charlie Chaplin, Humphrey Bogart, Lauren Bacall, Elizabeth Taylor and Montgomery Clift. The pine-backed, rocky shoreline of S'Agaro has several beaches offering welcome pockets of shade and spurs of rugged red rock that reach into shimmering blue waters. This is a popular but unspoiled spot to wile away an afternoon. In the high season you won't be allowed to drive into the resort, but you are free to park in Sant Pol and walk in.
S'Agaro is an expensive place to grab a bite, although there is one reasonably-priced family-run restaurant, the Caleta Park, at the southern end of the town. Aside from that, eating out doesn't come cheap in or around S'Agaro. La Taberna del Mar (972 32 38 00) right on the beach gets its seafood flown in daily from Galicia on the Atlantic. Salted gilthead, fried seafood platter, oven-baked sea bass, etc. Hostal de la Gavina at Plaça de la Rosaleda (972 32 11 00) has exquisite dishes which echo the elegant Modernism of the dining room. Fish stew with puff pastry, turbot cutlet with lobster sauce, heart of sirloin with foie gras and truffles, poached pears with caramel and cinnamon sorbet.
In the nearby village of Castell D'Aro, a well preserved Medieval village where well-to-do Catalans have summer homes, restaurant Joan Piqué, Barri de Crota 3 (972 81 79 25), named for its locally famous owner and chef, offers creative Catalan fare at - considering the quality - fairly reasonable prices. The menu degustacion costs 6,000 ptas. Goat-cheese salad, oven-baked salt cod, coquilles Sant Jacques, ox-tail stew with black olives, lamb carré a las finas hierbas, gratineed truffles with cream of grappa, etc. Closed Tuesdays. A few km further inland is the resort town of Santa Cristina d´Aro, surrounded by handsome masias, the small Benedictine monastery at Solius, and the Club de Golf Costa Brava (972 83 71 50 and 972 83 71 52) which has 18 holes, par 72, the landscape varying from gentle hills of holm oak and pine to flatlands with plenty of wide open spaces. Rental of clubs and caddie carts, practice area. Clubhouse, bar and restaurant. Open year round.
Next up the coast is La Platja d´Aro, the second biggest tourist-trap on the coast. This hodgepodge of ugly '60s hotels and apartment blocks is kept somewhat lower-keyed than, say, Lloret thanks to the pine trees that line almost all streets here. The main road slashes through a parade of over-priced boutiques and burger joints catering mostly to package tourists who flock to this town's rather nice three-kilometer long beach. Market on Fridays. Carnival celebrated in February.
If prestigious cuisine in an luxurious setting is what you're after, the incongruously named Big Rock in the outskirts of Platja d'Aro is one of the more deservedly-famous restaurants of the entire coast. Located on a hill-top at Barri de Fenals 5 (972 81 80 12), (take Avinguda de Juli Garreta from the town's main traffic cicle and follow uphill). The huge eighteenth-century masia is surrounded by greenhouses which become dining rooms in the summer months. Big Rock offers creative variations on traditional Ampurdanese dishes which have been enriched and modernized by chef/owner Carles Camós. Zuchinni crêpes with bacon, black rice, cold cream of Palamós-prawn soup, lobster and pasta salad, lentils with seafood, sirloin steak, oven-baked hake with potatoes and garlic, sea bass à la cava, lobster suquet, etc, Count on spending between minimum of $55 and $75 for a truly memorable meal.
The waterpark Aquadiver on the outskirts of Platja d'Aro is one of the smallest on the coast but has some decent rides (972 81 87 32). Club de Golf d'Aro - Mas Nou (972 82 69 00 / 81 67 27) is built on a high ground overlooking town. The varied and fairly difficult 18-hole round including 9 par 3s, runs through gently rolling country surrounded by pine woods, and features water hazards and bunkers. Rental of clubs and caddie carts, electric buggies, 2 practice areas, 2 putting greens, minigolf, tennis, swimming pool and sauna. Clubhouse, bar, and restaurant. Open all year.
By far the nicest part of Platja d'Aro are the beaches to the north of town, along the five kilometer stretch to Sant Antoni de Calonge, starting with the beach at camping Sa Cova. But getting close to them by car and finding parking can be difficult. If you want to go to these beaches, try to park in the residential area on the hillside above and walk down to the beaches. Spanish law prohibits limiting public access to beaches, though they can deny access by car. While some of the driveways and stairways leading down to the beach, such as those of Hotel Park Sant Jorge, are private, you may use them to walk to and from the beaches.
p>