Guidebook pages 12 to 15, Calella de Palafrugell to Begur
This section includes:
the town of CALELLA DE PALAFRUGELL
LLAFRANC
TAMARIU
BEGUR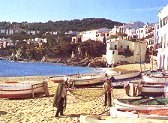 Linking Calella and its picturesque fishing village, Calella de Palafrugell there is an incongruous four kilometer-long four-lane highway. This may be convenient for zipping to and from the beaches, but for sightseers, you would actually do better to take the roughly paved old road turning right just before the highway starts at the traffic circle. It is a more scenic, including some restaurants, discoteques, and a superb fortified masia. Calella de Palafrugell is the archetypal fishing village at its most clichéd - rough cliffs, a half-dozen small cala beaches backed by arcaded, whitewashed houses and narrow, twisting cobbled streets. There are no ugly multistory buildings, and fishing boats still go out early in the morning. The six tiny beaches fronting the town are not exactly secluded and in summer can be rather crowded.
Recommended beach: if you follow the footpath along the shore to the south beyond the last visible promentory there are a couple of gorgeous beaches, the third one, called Platja del Golfet, being the most attractive.
Calella is known for its traditional Habaneras, or sea shanties, the music brought back by émigrés returning from the Americas. These lovely sing-songs are usually accompanied by guitar and accordion, and sometimes bass. Habaneras are usually listened to while sipping ron cremat, or rum flambéed with coffee beans in terra cotta dishes. The concoction contains rum, sugar, and coffee beans, and lemon peel and/or cinnamon stick might be added for flavor. It will be brought out in an earthenware bowl and you (or the waiter) have to set fire to it, occasionally stirring (with care not to spill and get burned) until it is ready to drink.
Even if you don't manage to hear a concert of Habaneras, there are a couple of cafés with a distinctly habanera flavor. One such place in Calella, which tastefully combines ron cremat, the strains of Habanera music, and a congenial atmosphere (fireplace in winter) is Taverna La Bella (972 61 52 79) on Plaça de Sant Pere, 4. Bar Bacus serves a menu del dia at its outdoor tables just off the beach. Finer dining is available at either Rems, Pintor Serra 5, or at Can Pep, Lladó 22. There's a very popular festival of Habaneras, the Cantata de las Habaneras, held on the beach of Calella every first Saturday of July, while the festa major is celebrated on June 29 in honor of Sant Pere. Calella has a scuba diving center open from March to November. Call me for info.
While not as spectacular as the Marimurtra Botanical Gardens in Blanes, the Castell i Jardins de Cap Roig (daily 8-20h, 250 ptas) is well worth the visit, a clifftop 8 hectaire botanical garden which took fifty years to lay out. Constructed by a White Russian colonel, named Woevosky, and his English wife, you can enjoy exceptional views of the headland of Calella amidst a colorful display of flowers and plants from all over the world. Believe it or not, an all-star Jazz Festival is held in these gardens each summer in July and August.
A short drive - or better still - a lovely twenty-minute walk on a gentle footpath around the promentory from Calella brings you to Llafranc, tucked beneath the pines into the next bay to the north, with a good semicircular beach and a small marina. Although Llafranc is only a couple of kilometers across the headland from Calella, this small up-market resort looks and feels completely different from the other town. This is a very pleasant and relaxed place to wile away the hours, but if you are a keen walker, there is a hard but worthy climb up through the pine forest to el Far de Sant Sebastià, the lighthouse on the hill above Llafranc. The path leaves from Llafanc's parish church. On your way up you'll pass the Megalithic dolmen of Can Mina de Torrents (3,400 to 3,000 BC). Above the lighthouse, the views are impressive, there are several paths leading down to a shrine dedicated to a saint, and the French hotel chain Relais and Chateau are building a fancy hotel restaurant here which may be completed in time to offer you well -deserved refreshment. Those who don't wish to climb up may simply follow the signs by car.
Some of Llafranc's pricey restaurants and bars specialize in Ron Cremat. For a quick bite, try Restaurant La Bodega, Pere Pascuet 2 (no phone) which has reasonably priced meals and doubles as a bar at night. For a more consistent meal, try Hotel/Restaurant Llafranc, (972 30 02 08) a local fixture originally owned by character known as the Gypsy and renowned for his wild parties and his famous guests, including Dalí, Sophia Loren, Kirk Douglas, Rock Hudson, Carmen Amaya, and that nearly forgotten king of cha-cha-cha, the bandleader Xavier Cugat. As you can imagine, their photos now adorn the walls, along with Ampurdanés landscapes painted by Josep Martorell. Restaurant Llafranc is one of a dozen local restaurants near Palafrugell which participate in an gastronomic initiative, the Garoinada, thought up by the local tourist board. La garoinada is a succulent fixed-price seafood menu where the delicious red eggs of freshly opened sea urchins are the star attraction. Only available in winter months. Restaurant Llevant, Francesc de Blanes 5, (972 30 03 66) also enjoys a good reputation. (Lluis and Lluisa, knowledgeable sources, highly recommends restaurant La Sal.) Between Llafranc and Palafrugell is Tennis Club Llafranc, (972 30 23 08) which rents out courts by the hour. Llafranc has two scuba diving center, the larger, Snorkel, (972 30 27 16 - http://www.bluedeep.net/snorkel) open year round, is the biggest and best supplied on the coast, although I'm told by divers that underwater, the port area and bay is a terrible eye-sore as sunken automobiles have been used to hold buoys in place. Llafranc celebrates its Festa Major in honor of Santa Rosa on August 30.
Despite its small beach, Tamariu is perhaps even lovelier than the other two villages. This bay at the mouth of a flood river owes its name to the tamarinds which, with the pines, form this area's dense vegetation. The pine-guarded road twists down to the small cala backed by several clean but basic restaurants. A small strip of fairly fine sand lies below the green-gilt rocky headlands, and old men play pétanque while windsurfers and excursion boats sweep into the bay. There is a pervasive air of relaxed charm, except perhaps the night of the Festa Major de Santa Rosa, on August 15. Paco Boats (607 29 25 78) on the pier organises boat trips and rents all kinds of boats by hour, day or week. Scuba club run by G. Stolberg open March through November. Call me for info.
Departing from Tamarit beach are some fun and fascinating kayaking excursions heading north to one of the coast's most pristine and inaccessible stretches. Kayaking Costa Brava (972 77 38 06) offers an exciting way to see some great calas, paddling through water-eroded tunnels and natural chasms of impressive rock formations. Excursions several times a day, all year long (weather permitting), with expert guides, and all the necessary safety gear, from safety vest to flashlight- mounted helmets with which to explore the deeper caves.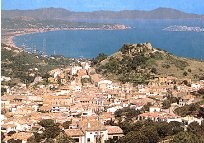 Whereas Palafrugell is the inland jumping off point for the previous three beaches, Begur is a hilltop market town dominating the handful of the Costa Brava´s most delectable little resorts. Crowned by the remnants of a seventeenth-century castle, Begur commands extensive views of the central Costa Brava. In the narrow, dusty backstreets lurk porticoed townhouses with fading frescos, once owned by wealthy Indianos, or Catalans who in the 19C returned after making their fortunes in the Americas. It's a quiet place - old men in berets, like figures from Josep Pla, sit and watch the world go by. There are some good, if empty, restaurants and bars. Restaurant Platja, on Plaça Pella i Forgas (972 62 21 97) serves good seafood and offers an inexpensive menu day and night. Market on Wednesday and Sunday.
Several noteworthy crescents of sand sweep the coastline below Begur. The small calas, Sa Riera, Aiguafreda, Sa Tuna, Fornells, Aiguablava and Aiguaxelida all have tiny beaches, often littered with little colorful boats. Thick pine forests spring from honey-colored rocks which soar above inviting bays of clear, blue water. Sa Tuna is particularly attractive, its roads lined with bougainvillea. Aiguablava has been blighted by the modern Parador and its enormous payed parking lot below. The Parador Nacional de la Costa Brava (972 62 21 62), is a big white box sitting on the southern promentory of the cala. Non-guests are free to have drinks at the poolside bar. In Fornells, the restaurant Grill Aigua Blava (972 62 20 58) is in a beautiful setting and has highly reputable cuisine. Zarzuela or fish stew, seafood paella, lobster, red mullet with fennel,etc. Just out of town, Mas Comangau (972 62 32 10) has good fish and grilled meats. Aiguaxelida has lost some of its splendor to an enoromous housing development, but its beach is the point of departure for excursion boats to the otherwise inaccessible calas of En Gispert and of El Bisbe, named after its rocky islet in the shape of a bishop's mitre.