Guidebook pages 3 to 7, Blanes to Sant Feliu de Guíxols
This section includes:
Intro to Southern Costa Brava
Blanes
Lloret de Mar
Tossa de Mar
The corniche between Tossa and St. Feliu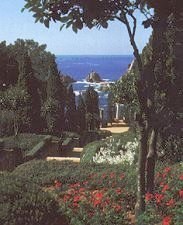 Route 1. Blanes to Palamos
Introduction: The Brava, or "savage", part of the Catalan coast begins at Blanes, a bustling port town with a popular beach and two good botanical gardens. The old town and medieval walls of Tossa de Mar are well worth a visit, and Sant Feliu de Guixols, an unforgettable 22 km up the exhilaratingly beautiful coastal road, has a great deal to recommend it. You'll probably want to avoid the notorious resorts of Lloret de Mar or Platja d'Aro, though they are very much a matter of taste: brash, tacky concrete piles they may be, but if you happen to like your nightlife loud, late and libidinous, you'll have no complaints. Remember while you're on this part of the coast that the best way to see the rugged coastline is by Crucero, the boat service that connects the main coastal towns and offers spectacular views of the coast. Perhaps the best run is the one from Sant Feliu de Guixols to Tossa del Mar, approximately 1 hour each way, three round-trips available daily.
Blanes, gateway to the Costa Brava, with a year-round population of over 20,000, including many Barcelona commuters, has some light industry and a heavy-duty fishing port. The main points of interest, aside from a stroll around the old town are the town's two botanical gardens. As you follow the road signs into the center of town, or "centre vila", turn north off the beachfront traffic circle, and follow the pine-covered promenade (Passeig de Mar) to the half-hidden sign for the Marimurtra gardens, several blocks on to your left. The hill of San Juan rises above the town, where the spectacular Marimurtra Botanical Garden (300 ptas. entry fee) covers over 5 hectares of a fine hillside position with more than 5000 plant species from five continents, some of them considered endangered. These gardens were founded by the German botanist Karl Faust and, since his death in 1952, are administered by an international trust. From the grounds you can see the remains of a tenth-century castle and a fourteenth-century church on the hill above the gardens. Jaime Ferrer, Columbus's map-maker, once lived on this hill. A kilometer of so after the entrance to the Marimurtra is the first of the Costa Brava's nice little calas, the Cala de Sant Francesc, which has a little "chiringuito", or snack bar, and a good area for snorkelers. The residential area of modern villas just uphill from this cala is noteworthy for the exuberance of its gardens. There seems to be some very serious keeping-up-with-the-Jones's activity here as neighbors compete for the most spectacular rock and floral displays. Further north you'll come across the Jardí de Pinya de Rosa , with over 7,000 species of tropical plants, mostly cacti, and a collection of 600 different types of nopals, or prickly pears.
Market is held on Monday mornings on the Passeig de Mar. If you'd like to visit a local producer of cava, Mont Ferrant on the Pujada de Sant Joan welcomes visitors. Cruceros leave from the beach, 4 per day, ½ hour to Lloret, 1 hour to Tossa. Beyond the Passeig del Mar, or the beachfront promenade, is the fishing port where the fleet's catch is Dutch-auctioned every afternoon on the quay. Fiesta Major of Santa Anna is held from 24 to 28 July which includes an important International Fireworks Competition. In April, Blanes hosts the coast's largest Used Boat Fair.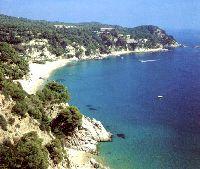 If you are using another guidebook that highly recommends the restaurant at the Hostal Patacano, don't bother to look for it. It is no doubt a sign of the times that this most famous of Catalan eateries, after four generations of being run by the same family, is no more, and a Chinese restaurant occupies its place. Unic Parrilla at c/ Porta Nova 7, just off the Passeig del Mar is popular with locals, set in an old fisherman's cottage and serving grilled fish and meat. There are several popular restaurants, such as Can Flores, in the port area. On the road between Blanes and Lloret is the restaurant El Ventall (972 33 29 81) a family place popular for its creative variations on traditional Catalan cuisine. Shrimp and melon salad perfumed with fresh mint, salt cod au gratin with leeks and potato and puréed garlic, loin of fresh cod au vapeur with basil and olive oil, etc. The best inexpensive menu I found was at Les Brases, c/ Antiga 40 (972 33 28 37) where I thoroughly enjoyed a simple 3-course meal and a bottle of red for 1,100 ptas.
Five minutes south of Blanes is the Marineland aquapark complex - on the road from Malgrat to Palafolls, (972 765 48 02). With water slides, dolphin, sea lion and parrot shows, 60,000m2 of gardens and lawns with picnic areas, a tropical house with a variety of exotic reptiles, a kiddy zoo, boat lake, etc.
At the Platja de Santa Cristina, between Blanes and Lloret, is the seaside hotel-restaurant Santa Marta, (972 36 49 04), part of the French chain, Relais & Châteaux - a guarantee of at least the French seal of approval...with such "local" delicacies as foie gras d'oie aux truffes, boeuf chateaubriand, sea-bass au sauce vinagre, salad of baby octopus with saffron flavored potatoes, fried turbot with tomato and sea-urchin, and almonds and chocolate with figs au whiskey, etc. If you walk around the headland to the north of Santa Cristina beach, you'll find the pleasant little Boadella beach. Off on the main road after Santa Cristina there is a resort of ugly high rises backing the wide beach at Fenals.
Next is Lloret de Mar, by far the biggest resort on the Costa Brava. Most Catalans think that the best way to see Lloret is from your car window at 50 kilometers an hour on your way to Tossa... This is the quintessential tourist trap, with point-at-the-picture menus of paella and chips, English pubs, German beer, loud discotheques, and visitors who, on the whole, do their best to ignore the fact that they're in Spain. Lloret is the most prosaic, unimaginative display of wall-to-wall burger bars you're likely to come across in northern Spain. Should you do decide to venture in, at least the area around the Plaça de l'Esglesia and the sixteenth-century parish church will give some hint as to what Lloret once was before the lager-louts got here. There is also a handsome palm-fringed promenade and a wide beach with fine sand.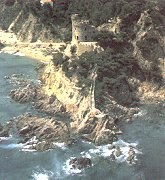 In all fairness , to be critical of Lloret is perhaps a little misgleading, since it makes no pretense of being anything other than an out-and-out holiday resort... excelling in giving its guests, mostly bused-in package-tourists from the UK and Germany, just exactly what they want - and at rock bottom prices. During the day, the central beach is packed solid with oily bodies of all different shades - mainly white to lobster-red, and at night, the discoteques pump out the ghastly machine music for a mostly adolescent crowd.
Market on Tuesdays. Good sweets and locally popular cheese pastries at Frijol on Prat de la Riba 4. The town cemetery on the road in from Blanes was built in the late 18C and has some interesting modernist tombs. On every 24th of July, Lloret de Mar celebrates the fiesta of Santa Cristina, a local 12C martyr. In addition to the usual merrymaking, a curious traditional dance is performed, the Almorratxes, and a pilgrimage by boat is made to the cala where the saint's body was said to have been found. Fiesta Major is celebrated on the 18th of November.
North of Lloret are some attractive little calas which can be reached by turning off the main road or viewed from the Cruceros coastal boat service that calls at Lloret beach. Lloret's best restaurants are situated on these little calas, far from the howling hooligans in town. But should you decide to eat in Lloret, try the following addresses: Ca l'Avi, Av.Vidreres 30 (972 36 53 55) for fish and seafood. L'Estelat on Turó de l'Estelat (36 48 00) for Catalan fare with terrace. Roca Grossa on Font de Capellans 2 (972 36 51 09) for local dishes. The Taverna del Mar on Pescadors 5 has good seafood, a terrace, and moderate prices. One of the larger calas north or Lloret, Cala Canyelles, is home to El Trull, (972 36 49 28), a successful restaurant and hotel complex for over 30 years, with three terraces overlooking the wide cala. Despite the piped-in musak and the distinctly 1970's feel of the place, the cuisine is reputable. Fish soup, arrosejat de fideos, salmon and cod-fish rolls with escalivada, suprême of sea-bass with mouselline of sea-urchin, and oven-roasted suckling lamb, mille feuilles of catalan custard,etc. Also between Lloret and Tossa is restaurant Dafne, set in the luxuriously tacky Casino de Lloret (972 36 65 12) with local and international dishes, an ample wine cellar, and on Fridays and Saturdays, an excellent buffet that's a steal at under 2000 ptas. p/p. Cala Canyelles is also home to the scuba diving club Nauti Sub Lloret, (972 37 26 41).
The Aquapark Water World (972 36 86 13) complex is one of the biggest on the coast, with wave-pools, aqua-slides, and the 250m-long aquacoaster, taken in a small dingy. There is no zoo. The Park is situated just inland off the main traffic circle. Further along the same road inland to Vidreres and the highway to Barcelona is a large Go-Kart circuit, and following that, the infamous Bodega El Paratge, one of the coast´s more clever tourist traps, a huge store/bodega, with wine tasting as the principal lure, and then, once they've got you there, a panoply of trashy ceramics and other typically Catalan ersatz. This is a great stop for lovers of kitsch. If only they offered Andalusian donkey rides or those bullfighting posters with your name inscribed... South of Lloret de Mar, on the main road to Blanes, is the Club de Golf L'Àngel de Lloret (972 36 54 16), with a nine-hole course (nine more under construction) located amid beautiful scenery. Bar, rental of clubs, caddie carts and electric buggies. Open year-round.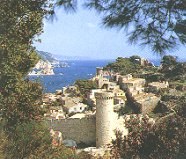 Thirteen winding kilometers north of Lloret is Tossa de Mar, one the most attractive of the bigger resort towns. Shut in by wooded hills, its long curving bay is skirted by a trail of gritty but popular Blue Flag (top-notch) beaches, bounded at each end by shafts of golden-brown rock. The town is well kept and sensibly planned, with low-rise hotels relegated to the second row of the town's gridded streets. It is the walled twelfth-century old town, the Vila Vella, perched defiantly on the southern headland, that is the big draw, its heavily restored medievalism a soothing antidote to Lloret's brutal architecture. Cobbled streets, with stone cottages and flower boxes, lead up to the lighthouse with its impressive views of the beach and bay. Outside the walls there is a tangle of steep, whitewashed, narrow streets where bars and restaurants jostle shoulder to shoulder for your custom. The Municipal Museu de la Vila Vella (Mon-Sat 1 0-13h, 16-20h, Sun 11-13h; 250ptas.) boasts the only Chagall painting in Spain, named the Celestial Violinist. (Chagall vacationed here in 1934.) The museum also has some Roman mosaics and other remnants excavated at a nearby second-century villa, named Turissa, (just off the Avda. del Peligrí) from where Tossa derives its name. Just beyond the Vila Vella is the smallest of Tossa´s three beaches, in reality a tiny cala named els Codolars (the stony place), where snorkellers might surface in a flash of mask and flippers. The main promenade, the Paseo del Mar - where a statue of Minerva incongruously shares billing with Jonathan Livingstone Seagull - skirts the other two beaches, where sunbathers lie between beached fishing boats. Pedal boats are available, but avoid the glass-bottomed boats here. Aquatic viewing is far better up the coast at Islas Medes or the Cap de Creus. Parking in Tossa can be difficult, so if you can work your way downhill through the old town, there is a very handy Municipal parking lot just across the Passeig de Mar.
The annual festival of the Pelegri de Tossa, on January 20 and 21, celebrates a pilgrimage from Tossa to the inland town of Santa Coloma to honor Sant Sebastian for having spared Tossa from the plague in the fourteenth century. The Pilgrimage is followed by a winter fair. Festa major is celebrated on June 29.
Market on Thursdays. Good pastries, especially meringues, at Tomàs on Guàrdia 14. A popular ceramic shop is Carme Castelló on Guàrdia 9. There are a plenty of good places to eat in Tossa. Es Molí, Tarull 5 (972 43 14 14) in an elevated section of the old town has good Catalan fare in an agreeable terraced setting in summer, and fireplace indoors for winter dining. Es Molí is just uphill from the church, and offers a 2,500 peseta menu if you eat early, and a highly recommended menu degustación (or special house menu) for about 4,000 ptas. Marinated salmon, fish paella, pastel of sea crab, apple custard, etc. Another well-known restaurant is Bahía, Passeig del Mar 19 (972 34 03 22), closed Nov to Jan, with stuffed calamares, fish stew, crab-cakes Catalan style, Girona veal-steaks, etc. Can Tonet on Plaça de l'Esglesia 2 (972 34 05 11) has been packing them in since 1900. Castell Vell on Pintor Roig i Soler (972 34 10 30) is perhaps the best of the restaurants inside the walls of the romantic Vila Vella. Tossa has two scuba diving clubs, both run by English-speaking foreigners. Call me for info.
The Corniche between Tossa and San Feliu
This is one of our favorite stretches of coastline. Once out of Tossa the coastal road (G682) climbs steeply and for the next 22 km runs high above the red cliffs, twisting and turning through luxuriant groves of pine and cork oak, with sudden views of jutting headlands and small calas, the water changing in color from emerald green to cobalt. Make a point of stopping at the miradors, the little parking lots from which you can take in the scenery. At intervals, the road swoops down to circle an inlet and you will see abrupt turn-offs that lead to little calas which you can drive or walk down to, some with restaurants or a chiringuito, (a makeshift snack-bar, sometimes with a busy barbecue). Tucked away in these little calas are beaches for all tastes. There's an expensive and highly rated camp-ground located on the beautiful Cala Pola. (Park outside the campgrounds and walk to the beach through the grounds.) Nearby Cala Bona is also beautiful. On the next cala, called Giverola, the Swiss have built an ugly high-tech resort of boxed bungalows. So as not to feel homesick, they also installed a typically Alpine yellow funicular to freight tennis-players to the astroturf courts on the beach below.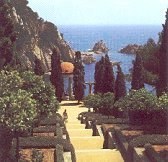 Seven km into the drive, just after passing the cala de Salions, there's a left turn to the Sanctuary of Sant Grau, which twists 5km uphill, offering splendid views. To the right you have a splendid panorama of Tossa del Mar. Turn around and you have one of the most ruggedly beautiful stretches of the Costa Brava. In 1908 the journalist Ferrán Agulló, inspired from the view up here, was the first to name this coastline la Costa Brava, brava meaning rugged, savage, or wild. The existing Sanctuary is of the nineteenth century, although evidence of the ancient Romanesque building remains. It's a charming spot for a stroll, with numerous paths through the typical Mediterranean forest. On the way down, see if you can spot the curious rock formations at La Roca del Rei.
Back onto the corniche, a popular and pristine beach favored by nudists is the cala Valpresona, which lies a half-hour walk down from the road at km 16 -where you see the greatest concentration of parked cars. Perhaps the most pleasant beach is at Rosamar (at km 36 - turn in at the olive trees and drive down through the eucalyptus grove). This place is a sea-side paradise, and you would do well to plan at least a few hours to stroll aroung here. A rocky promentory with a bronze mermaid separates a sandy beach backed by sheer red cliffs from another, this one with a stone walkways along a rocky shore ideal for snorkelling. The restaurant just above the mermaid, Sr Ramon, is one of those places that feels just right. Albeit the service is slow, and sometimes non-existant, but the it is a lovely place, the padded rattan chairs are comfortable, and a daily menu can be had for 1,500 pesetas. This little semi-private development seems to be unknown to sun-seekers, and the beaches are usually empty.
Warning to drivers: though the dramatic beauty of this route makes it well worth the trouble, don't undertake this 22-km drive lightly, or in a hurry. Although the blacktop has recently been repaved and re-engineered, the road is extremely winding and with only one lane in each direction.
the guide continues with SANT FELIU DE GUIXOLS before going on to Route 2 at Palamós on page 12...