Guidebook pages 16 to 21, Pals to L'Estartit
This section includes:
INLAND: MEDIEVAL DIVERSIONS
(Pals, Peretallada, Ullastret, La Bisbal, Monells, Les Angeles Sanctuary, Puból, Torroella, L'Estartit...)
Route 3. Pals to L'Estartit.
Introduction: North of Begur, the landscape changes; the wooded cliffs giving way to the broad coastal plain of the Baix Empordà. There are a cluster of memorable villages set in lush green hills that are well worth the visit before turning back to the coast. The road from Begur descends, gradually distancing itself from the coast and crossing the fertile plain, where the rivers Ter and Daro meet and flow into the sea. Medieval Pals absorbs most of the package-tour groups in high-season, and serves as a shield for the less-transited towns that dot this inland area all the way to Girona. This is indeed a truly privileged part of the Costa Brava, where only the very well- to -do can afford to buy and restore an old townhouse or masia. Zoning laws are strict and there are few modern developments here.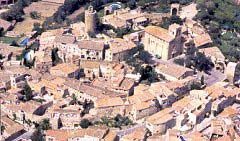 Pals, once a port in a rice-growing area but now set well inland due to silting, is a well-preserved medieval village that has been perhaps a little too well restored. Fortified on a low hillside with walls and towers, Pals is dominated by the tower of the old castle, the Torre de les Hores. Although very much on the bus-tour route in summer, and despite a handful of tacky ceramic shops, Pals is still a wonderful place to have a stroll, and there are a couple of agreeable bars and restaurants. Alfred at La Font 7 is a local classic, offering fresh game, pigs-feet, fresh fish, and a midday menu.
Across the road from Pals are the rich lowlands backing the 6-km duned beach of Platja Pals. To the south, where you see the communication towers, is a huge urbanizacion under tall pines clustered around the Pals Golf course. Everything here is Wir Sprecken Deutsch and English Spoken. At the southernmost point of Pals beach there is a discreet nudist section. The locally famous pool-side restaurant Sa Punta (972 66 73 76), specializes in foi gras, oven-baked fish, ragout of anglerfish and lobster, veal solomillo in Rioja red wine, roast duck with little sweet onions, etc. The Golf Club of Pals (972 63 60 06) is considered one of the best in the Catalunya. 18 holes, par 73. Set in pine forest near beach. Flat terrain, very difficult when tramontana blowing. Bar and restaurant. Clubs, cart, and electric cart rental.
I much prefer the lowlands northeast of Pals town. This is an area of citrus groves, rice fields, and lumber forests of mostly birch, with a few fortified masias. If you have time, turn in at the signs for el Moli de Pals to visit the ancient mill and work your way to the beaches. Further up the main road, after the Golf course, you can also turn in at sign for La Gola and Picasso restaurants (972 76 11 00), both specializing in a local delicacy, elvers, or baby fresh-water eels, and paella. Take care at the beach. Though the huge beach of nice course sand is very pleasant, the litoral is steep, meaning it becomes deep very quickly as you enter the water, and there is hardly any shallow area for children to play, and on windy days there can be a strong undertow. This a one of the better beaches for kite-flying.
Medieval Pals absorbs the package-tour groups, and serves as a shield for the less-transited towns that dot this inland area. This is indeed a truly privileged part of the Costa Brava, where only the very well-to-do can afford to buy and restore an old townhouse or masia. Zoning laws are strict and there are no modern developments here.
Heading north from Pals' two traffic circles towards Torroella de Montgrí, turn left after two kilometers for the walled town of Peretallada. Peratallada, means cut stone, and many of the narrow streets and building foundations in this town are just that, literally carved right into the natural rock. Upon arriving, its perhaps best to park in the tree-lined esplanade in front of the thirteenth-century church of Sant Esteve - just uphill to the right and outside the town walls. Walk in through the main medieval gate tower, over the moat - a moat which has been carved several meters directly into the bedrock! If you take your first right upon entering you'll see what centuries of wheel-cart traffic can do to a stone road. The main monumental area consists of three precincts encircling Peretall ada's castle and palace, with Romanesque and Gothic features, now a very chic hotel set around an inner courtyard. The town is beautifully kept, and strolling around its cobbled streets you can admire a whole range of well-preserved buildings whose origins date back to pre-Roman times.
There are a number of attractive restaurants and cafés in Peretallada, including the Castell de Peretallada (972 63 40 21) offering Catalan and international food in an impressive monumental setting. Terrine of duck foie-gras, wild mushroom custard with escargots, assorted dessert tray, etc. Menu degustación costs 8,000. Even if you don't eat here, take a look at the kitchen - to your left on the ground-floor as you enter the courtyard. Somewhat more modest but still very good are the following three restaurants: La Riera at Plaça de les Voltes 3 (972 63 41 42), with black rice, salad of tête de veau, stuffed goose necks, duck with olives, hake with anchovies, pears in vinegar, etc. Can Bonay (972 63 40 34) also in Plaça de les Voltes 13, with eggplant and prawns au gratin, goose with turnips, eggs stuffed with Norway lobster. Can Nou in Plaça Esquiladors, 2 (972 63 40 35) also enjoys a good reputation. Across from les Voltes is a agreeable bar, Psss...Café, which plays "world music" and occasionally offers live jazz. Be sure to take a look at their collection of curious tables. Festa Major the 6th and 7th of August. Agricultural fair the last Sunday in April. There is a very popular Medieval festival the first weekend in October.
DETOUR: For the more adventurous of you there is an interesting back road starting at the tree-lined creek below town. This dirt track leads to the C-255 at Sant Climent de Peralta, but not before passing through some active farms, a couple of fancy masias, a lovely 12th C chapel, and the horseback-riding club of Cavalls de Forallac (972 63 42 65), a small club in a beautiful setting, the hillside farmhouse/clubhouse affording great views of the not-too-distant Pyrenees. Forallac Club offers all sort of riding possiblities, from hour-long classes for about 4,000 pesetas to day-long excursions for between 10,000 to 16,000 pesetas.
A few km before Peretallada on the route from Pals, you will pass Sant Juliá de Boada, with an interesting Mozarabic church with horseshoe arches, and Palau Sator, a tiny medieval hamlet whose perimeter walls can be walked around in less than 10 minutes. Palau Sator boasts three reputable restaurants, Can Dol, Mas Pou, and La Torre, Plaça de la Mota 1, (972 63 41 18) the least expensive of the three which has fabulous roast lamb. (The chef is also the village butcher, and he's likely to come out to ask you what cut you want and explain how his lamb is cooked fresh so you'll just have to wait however long it takes if you want it done right.) There's a good selection of other dishes at reasonable prices, and they'll probably bring them out whenever they're ready, so not everyone is always served at the same time. The shrimp and chicken Mar y Muntanya is better prepared elsewhere. Be forewarned: this is a family place and the atmosphere can be chaotic, lots of kids running around, and sometimes the background music jumps into the foreground.
Heading east toward la Bisbal from Peretallada, take a look at the Romanesque Church of Sant Esteve at Canapost before turning north to Ullastret, another medieval precinct surrounded by three distinct lines of defensive walls. The parish church of Sant Pere has three naves separated by large arches, an apse with two chapels, and a bell gable with four openings. There's a nice café with terrace in the main plaça. Look across the square for the dungeon in NW corner tower, visible from the plaça. Ullastret is best know for the neighboring Iberian settlement of Ullastret, - a couple km north and to the right - the oldest know Iberian settlement, a fascinating archeological site set on a lush hillside inhabited continually from 7BC until its mysterious abandonment in the late 17th century. It has been carefully excavated to reveal Cyclopean foundations and the remains of houses, water reservoirs and canalization, and the main square resembles those of the certain Greek settlements. A small archeological museum has been set up in the 14th century Sant Andreu chapel.
Just before reaching the district capital of la Bisbal, you may want to stroll around the heavily restored medieval village of Vulpellac, whose privately-owned Gothic palace has a central patio adorned with main stairway and a well.
La Bisbal is a bustling medieval market town in an attractive river setting. The quality of this town's mud has meant that la Bisbal has specialized in the production of ceramics since the seventeenth century, and pottery shops line the main road through town. The old center retains several impressive mansions, the architectural remnants of a once thriving Jewish quarter, and parts of a medieval castle built for the bishops of Girona, hence the name la Bisbal. (Castel - Palau de la Bisbal visits 17-20h, 200ptas). There are three or four surprisingly nice café-bars on the riverside drive diagonally across main strip from the old town, a five minute walk.
A couple km to the west of la Bisbal is Cruïlles, with one remaining observation tower, and a kilometer up the road, the very handsome Romanesque monastery of Sant Miquel de Cruïlles. Good midday menus for 1000ptas at Can Pau (972 64 18 63), just below the observation tower. Fiesta major on the Saturday closest to Sant Ponç, May 14. Though your map may not show it, there is a road between Cruïlles and the far more interesting little town of Monells, a couple of kilometers to the north. Follow the road going around the walls of Cruïlles to the right. Monells is one of those little picture postcard towns where everything is just right. The flower lined streets and porticoed squares are not buffeted by souvenir shops, the square only has one quiet bar with a few tables under the arches, and town's two restaurants are low key. l'Hort del Rector is on the outskirts of town and has salted cod stews as house specialty. In-town Restaurant Monells, is supposedly less interesting, with dishes such as monkfish and almond sauce, or chicken and shrimp casserole a specialty.
A few km south of la Bisbal is the tiny hamlet of Sant Pol, with the avant-guarde pottery school of Salvador Cortadellas, set in a beautifully restored masia just behind the Romanesque church. Let me know if you're interested in taking part in his "creative pottery afternoons" where you're invited to "come get muddy." Vulpellac also has an art school, Escola de Ceràmica del la Bisbal i Centre d'Artesania, (972 64 07 94), specializing in ceramics, with all classes limited to 10 students, and also offering woodworking, bronze and iron sculpture, and painting restauration classes.
Beyond Monells there are some lovely back roads through rolling farmlands and lush forests, dotted with little Romanesque chapels and unspoilt villages - like walled Madremanya, with its beautifully restored townhouses and a rather chic restaurant/bar, called La Plaça, on the main street. For the most spectacular view of the Costa Brava anywhere, follow signs for El Convent de la Madre de Deu dels Àngeles, just to the right as you leave Madremanya towards Girona. At 485 meters altitude, the terraces surrounding this hilltop convent are among the most popular picnic areas in Catalunya. The entire mountain is criss-crossed with footpaths leading to and from the convent and its breath-taking 360 degree views of the coast and Pirenees. If you don't care to picnic, there is a very popular mountaintop restaurant right next to the rather plain church, open only middays on weekends, offering menus for 1,300 pesetas. Reservations are absolutely necessary, as this restaurant is always full of families and busloads of pensioners on weekend outtings. (Tel.: 972 19 02 05) House specialties are paella and grilled meats. The hilltop chuch, by the way, was where Dalí and Gala were wed in secret in 1958.
Around Madremanya, other villages of interest in this area include Bordils (with a splendid fortified Gothic chuch of 1561); Sant Martí Vell (small medieval nucleus), Sant Mateu de Montnegre (ditto), and Quart (locally famous for the quality of its ceramics of blackened earth). Just off a well-marked dirt track between Bordils and Sant Martí Vell is an excellent horseback riding club, called CAVA (972 49 10 46). Just beyond the turn-off for CAVA is a very attractive restaurant set in an ancient mill, called restaurant Sant Martí (972 49 02 08) with French- influenced local menus for about 3,000ptas. Another restaurant on the road below the Convent before reaching Quart is lovely Can Max (although the sign over the parking lot entrance says Can Pol) at km 5.2. (972 19 02 02). The building is a 17C masia, restored in 1966, with a basement grotto and panoramic vine-coverd terrace overlooking Girona. Open only Thursday, Friday, Saturdays, and midday Sunday. The kitchen specializes in meats cooked on red-hot slabs of slate and meat stews with fresh mushrooms. For those of you with a particular interest in Gothic churches, nearby Cassá de la Selva and Fornells de la Selva, two large and not terribly interesting agricultural towns, both have well-preserved chuches dating from the transition from Gothic to Renaissance - the mid-16thC. Like in many Catalan religious buildings, the interiors of these two churches were damaged by anarchists rioting in 1936, before the Civil War.
Back to our route the north-west of La Bisbal, the busy and sometimes unattractive C-255 road passed by Puból and the Castell Gala Dalí museum, the second of the three points which make up the so-called Dalí triangle. (The other two points of interest which are open to the public are the theater Dalí prepared as his eternal resting place in Figueres, and his home in Portlligat near Cadaques.) Only the teatre/museu in Figueres is open to visitors year round, whereas the Púbol and Portlligat homes are privately owned, and have only been opened to the general public as of 1997, usually from Easter through mid-September. I must confess I've not seen the castle Dalí bought and furnished for his beloved Gala, but I'm sure it must be as subtle and tastefully decorated as one would expect from the old wizard. For information on the Dalí triangle, or to make reservations to see the house in Portlligat, which can only be visited in small groups, call 25 80 63. FYI: the Dalí foundation received 701,709 visitors in 1997, with a net profit of nearly $3 million. A third of that sum has recently been spent on adding fifteen minor works from the 1920´s to the Figueres collection. A special commission has begun planning a series of commemorative activities for Dalí´s centenary in 2004. Even posthumously, Dalí can be relied on to be a money spinner. Let's not forget that André Breton baptized Dalí with the anagram "Avida Dollars". Across the road from Púbol is Foixá, with a fancy restored medieval castle.
Back towards the coast, nine kms north of Pals on the Ter river is Torroella de Montgrí, another old port town left high and dry by centuries of silting. It now stands 5 km inland from l'Escala, and remains distinctly medieval in appearance with its narrow streets, a colonnaded square, baronial mansions and a rather impressive 14th century Gothic church, the venue for an ambitious international music festival. The old town is flanked on either side by a rambla which substitued the old walls, parts of which are still visible. The main street is full of shops, including a French-style traiteur with fine prepared foods. From the main square, the street on the upper left-hand side leads to the old municipally-owned cinema and casino, where I have had some delightful evenings seeing reperatory art movies followed by live jazz in the elegant bar next door. The town's well-presented Natural History museum is more enjoyable if you ask for the explanatory notes in English at the door. The unfinished
Castle of Montgrí above the town was built by Jaume II The Conqueror in the thirteenth century to keep in check the turbulent local Counts. The hour-long path up to the castle begins at the end of carrer Fátima, and you can walk along the castle battlements and enjoy spectacular 360º views. A wire fence has been installed for safety, but the battlements are not for acrophobes.
Market on Sundays (others says Monday). Fiesta Major on August 29. There's an interesting carpet weaving workshop, Taller de Tapis Embolic, on Església 6. Best pastries at Batlle, on Ullá 6. Restaurant Cotoliu, Porta Nova 38 has hearty home-style cookin´. Just to the south of Torroella, there's a little lane that snakes east to the mouth of the Ter river. The beach there has particularly fine sand, and nearby restaurant Picasso (972 76 11 00) specializes in a local delicacy, elvers, or baby fresh-water eels.
Just off the highway between Torroella and Pals, you'll find the Empordá Golf Club (972 76 04 50 / 76 01 36), designed by the American expert Robert von Hagge, with dunes, bunkers and artificial lakes, one of the most spectacular courses in Catalunya. Twenty-seven holes (soon to be extended to 36) of medium difficulty., Greens fees, hire of clubs and caddie carts, electric buggies, caddie master, practice green, golf school. Bar, restaurant, child care crèche, shop. Open year round.
East of Torroella is the coastal resort of L´Estartit, a fairly large, yet quiet place that concentrates on budget family-oriented holidays. The small whitewashed ex-fishing village in the midst of the modern hotel complexes now caters almost entirely to the whims of mainly English and German tourists. But l´Estartit is of interest not for its huge sandy beaches, which stretch all the way down the gulf to just below Begur, nor for the (poor) quality of its fish and chips... L'estartit is the embarkation point for the Islas Medes, a cluster of seven tiny uninhabited and ecologically protected (since 1985) islets and their coral reefs, once a pirate's liar, which scuba-divers and glass-bottomed boat tours visit from Estartit´s quayside. The Nautilus company (75 14 89) has "floating" submarines that go out regularly, day and night, either to the Islas Medes or on a longer itinerary up the coast to Cala Montgó and la Foradada, where the sea has hollowed out a long tunnel where boats carry divers to new adventures. Another excursion tour has recently been set up around the underwater pinnacles of Els Ullastres, 15 km further south). A two-hour snorkelling trip costs around 1800 ptas, and scuba diving is easily arranged for those who have PADI or similar licenses. Thanks to measures taken by the government fisheries department, divers report that the 21.5 hectaires of underwater natural park are teeming with coral and fish of all sorts, including anchovy, sardines, bass, barracuda, sea flies and gilthead, to name but a few. L'Estartit has seven scuba diving clubs. Call me for info.
On the quayside at L'Estartit, at Passeig del Molinet 5, (972 75 86 11) is restaurant Les Salines, is renowned for the quality of its seafood, boasting a nursery connected directly to the sea underground channels. Varied seafood starters, esqueixada, suquet, fried fish, bitter chocolate sorbet, etc. La Gaviota at Passeig Maritim 92 (75 84 19) is a typical and popular port restaurant with terrace. Turbot with truffles, anglerfish with sea urchin sauce, seafood stew, etc. On the highway towards Torroella is Torre Gran (75 81 60) with traditional Catalan cuisine set in a ancient masia with a defensive tower. The patisserie Capellà on carrer Santa Anna sells traditional dry biscuits of egg and pine-nuts. On the same street Mar de Coral has a fine collection of corals and minerals. Ted Krasny says look for CAN FELIX for good cheap eats.
Turning west from Torroella is the walled town of Verges, with remains of medieval walls and towers, and famous for its macabre Easter processions of very distinctive pagan origin, the dance of the dead, performed each Easter Thursday. Market on Tuesdays. Fiesta major on January 22.
etc, etc