Guidebook pages 40 to 46 Banyoles up to Olot
This section includes:
the town and lake of BANYOLES
THE PLA D'ESTANY
BESALÚ
and BANYOLES TO OLOT THROUGHT THE VOLCANIC ZONE
Seventeen quick km up the freeway from Girona is the lakeside town of Banyoles, site of the 1992 Olympic rowing events. (If you're not in a rush to get to the lake, turn off the freeway at the signs for Palol, with its ruined castle and a fortified precinct, on this attractive alternate route to Banyoles.) The lake, with a surface of one square km and 8 km perimeter, is unique in the world in that it is fed by the confluence of two subterranean rivers, where 600 liters of water are pumped in per second. Despite some Olympic-related lakeside development, with new hotels and restaurants much in evidence, Banyoles is an attractive place to visit, with a well-kept old town and shaded footpaths around the lake.
Banyoles grew up around a monastery originally founded by Benedictines in 812. Follow Carrer Nou, full of stone mansions, to the Monestir de Sant Esteve at the eastern end of town, still the biggest structure in the old town, with a Gothic retablo of 1437 backing the altar and cloisters containing 12-16C tombs of local Abbots. (Often closed but you can call 57 02 24 to visit.) The streets leading back into the center of town are full of ancient buildings, including a 12-14C almshouse, Pia Almoina, with a fine 14C cloister, and now site of the Museu Arqueològic Comarcal (350ptas), with its famous jawbone of a pre-Neanderthal man found near the lake), and a good example of 15C industrial architecture, the dye market, la Llotja del Tint, and the 13C church of Santa Maria dels Turers, one of the earliest example of Catalan Gothic with fine stained-glass windows. The Museu Darder d'Història Natural (300ptas) contains the collection of renowned taxidermist Francesc Darder, and the rooms dedicated to Man are controversial, to say the least, for their bizarre collection of human remains. All streets lead to the central Plaça Major, a lovely tree-lined, arcaded square with several cafés and a Wednesday market that had been held here since the eleventh century. The café on the corner with kiddy rides in front, el Café de la Plaça, has delicious sandwiches made with especially soft doughy rolls, named xapata. Ask for a sandwich with the cold-cut of your choice and pa amb tomaquet, which means the bread will be rubbed with tomato and doused with virgin olive oil.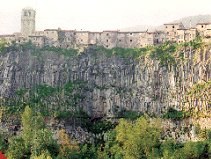 The lake boasts a whole series of boating options - cruises, row boats and pedal boats- all of which run to several hundred pesetas for an hour of fun on this lake's clean waters. (Banyoles lake is enviornmentally protected, and only boats with electric-powered motors may ply its waters.) Take some bread along to feed the enormous carp and water fowl. There is a grassy esplanade for swimmers and sunbathers and a few wooden docks from where to dive in. From the Municipal Pool, Club Natació de Banyoles, which has its own esplanade, walk a few hundred meters along a footpath going through the park to the north.
Market on Wednesday. Bicycle rentals (good way to see lake) at Top Bici, Lluis Constans 273, and at the El Lac campgrounds. Adventure sports at FangFonda Comas has inexpensive menus at midday. But many of the better local restaurants have closed down or are in decline, and the best meals are to be had out of town. If you do eat in town, go to the locally famous Rancho Grande, also know as Can Xabanet, on Plaça de Carme, or to the fancier Les Cuartre Estaciones on the Passeig de la Farga.. For those of you who think, like me, that taxi drivers always know the best places, there is a really good workman's midday menu to be had at restaurant les Estunes, (972 57 52 54, closed Thursdays) where ruddy farmers and workmen from all over the region pile in for hearty meals at 1000 pesetas. To get there: heading out of Banyoles on the GE-529 towards Sant Pau and Olot turn left at the fire station and signs for the Dallas Discoteque. Les Estunes is just behind the Disco. Don't be put off if the workmen stare at you a little at first. Just a smile and a nod and they'll dig back into their grilled lamb chops and you'll soon be part of the family. I've had such good cheap meals here - not to mention my first ever taste of home-made pine-nut liquor! For higher quality meals press on the Sa Llanca in Mieres (see below) or go to Can Roca in Espronellá (see below). Back in town you'll find a café with internet connection at Patagonia/l'Abeurador on the pedestrian street heading down to plaça Major. The owner, Melo, has two terminals and charges about 700 the hour to connect. He is also an avid fan of American Football and loves playing backgammon. Banyoles' Fiesta Mayor de San Martirianois on August 15, fiestas also on October 24-26. Sardanas are danced on Thursday nights in summer at the Plaça Major.
Across the lake from Banyoles is the borough of Porqueres, where the lake is at its deepest (63m). Here the exceptionally elegant Romanesque church of Santa Maria was consecrated in 1182 and has a barrel-vaulted interior, and unusual capitals depicting plant and animal life. The frieze around the façade has various curious symbols inside circles. At the end of the apse is a triumphal arch with ornamented capitals: God, angels, a scene reproducing original sin, Christ, the apostles, the Virgin, etc. Shame about the piped-in music you get with the 100 pesetas illumination fee. Somehow, Mahler's Addagietto just doesn't evoke medieval Christendom. Nearby, horseback riding club Club Hípic Comarca Pla de l'Estany (57 42 00) offers a choice of historic routes through villages on horseback. Further southwest, mountaintop Pujarnol commands a good panorama, and has remains of an old castle, a fine dolmen, and the nearby hermitage of Sant Nicolau, with its ancient oak tree, recently named a natural monument by local authorities.
El Pla de l'Estany
The triangle formed by Besalú and Figueres and Girona is one of the Province's more pristine agricultural regions, now very much by demand with well-to-do Catalans looking for a summer or week-end retreat. The entire area of soft rolling hills is full of neat little hamlets with a rich patrimony of medieval monuments, and inexpensive restaurants with good home-style cooking. One recommended circular route full of Romanesque churches and fine masias starts in Martís, then on to Crespià, Esponellà, Orfes, Galliners, Vilavenut, completing the circle at Fontcoberta. This route will take you past some good restaurants: Esponellà's Can Roca, which earned a fork in the Michelin Red guide, offers a set- priced midday menu for just over 1,200 pesetas, although more expensive at night. Duck foie and cannelloni filled with game are house specialies.. (Esponellà is also home to the adventure holiday organization called Fang (972 59 71 06), who offer routes with mountain bike, river kayaking, archery, paintball, canyon descents, and "light" survival classes. They offer an entire activity-filled weekend for about 10.000 pts. including meals, or one can choose for three activities per day at 3,500, which includes a BBQ at days´s end. The owner's name is Mario Vives. In Ofres, restaurant La Barretina (56 10 05) is renowned for its onion cakes, mushroom flan, duck with figs, and magret of duck with truffles. In Vilamarí, Can Boix (972 56 10 05) is an informal family restaurant which specializes in home-made sausages, roast lamb shoulder, roast duck, and farm chicken with rosinyol mushrooms. Further south, La Serra (972 56 10 59) in Sant Esteve de Guialbes also has a menu and specializes in roasts. Serinyà, back on the road to Besalú, aside from its Romanesque church and medieval fortifications, is known for its prehistoric cave paintings.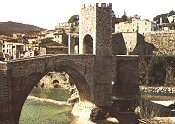 Fourteen kms north of Banyoles is the striking little town of Besalú. From the road, the imposing eleventh-century fortified bridge by the confluence of the Fluviá and Capellada rivers is the only indication that there is something remarkable about Besalù. But once in town you'll realize you're in a medieval settlement as yet almost untainted by tourism. Besalù was an important town from Roman times, and when the Moors were expelled from this corner of Spain in the ninth century, it was one of the first independent counties that arose to fill the vacuum. Despite a total population of just eight hundred it prospered, as it had done in a small way since the Romans, and remained a place of importance well into the fourteenth century. In appearance the town remains almost completely medieval, boasting some monuments quite out of proportion to its current humble status. Unfortunately, some of the churches and sights in Besalú are firmly locked: however, if you call ahead, (972 59 12 40) or ask at the tourist office, they'll either arrange a guided tour for you or have them unlocked so that you can visit them properly. Sights include - aside from the impressive but somewhat over-restored fortified bridge with seven irregular arches - the Mikva, or the ritualistic twelfth-century Jewish bath-house, the Romanesque church of Santa Vicenç (1018), the ruins of Romanesque Santa María (1055?) in a fenced-in area on a rise overlooking the village, the 11C Hospital, and the late 12C monastery of San Pedro. Weekly market on Tuesdays. Check out the selection of locally produced sausages at Juncá, Major 21, or at Can Clotas at Ganadell 18. Fiesta mayor on September 24.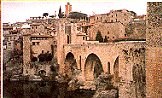 Pont Vell at c/ Pont Vell 28 (972 59 10 27) serves Catalan fare, including sweet and sour rabbit and duck with pears, at outdoor tables overlooking the bridge. Residència Maria (Cúria Reial) at Plaça de la Llibertat 15 (972 59 02 63) is situated in the refectory of an old convent, with economical home-style cooking such as onion soup au gratin, or oven-baked duck with pears. Closed Tuesdays and the first six weeks of every year. Fonda Xiqués at Avda. Lluis Companys 6 (59 01 10), on the main road, has hearty meals based on traditional farm-dishes such as meat and veggie soups (escudella) and stews with a variety of meats and sausages served apart (carn d'olla), cod-stuffed grilled red peppers, and rabbit with escargots.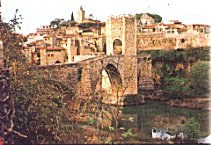 If you care to take in a spectacular mountain view that, on clear days - and best in the early mornings - encompasses all the western Pyrenees to the Cap de Creus and the Gulf of Roses, drive 13 km east from Besalú on the C260 towards Figueres and turn north at the sign indicating la Mare de Déu del Mont and the little chapel at Sous. The newly paved 12 km climb is easy, making it truly worth the effort. Below la Mare de Déu del Mont is Beuda, with Romanesque church and a small inhabited castle. Beuda's only restaurant, Montserrat, offers rice dished, "platillo", or chopped meat and veggie stew, and charcoal grilled meats. Nearby Maià de Montcal has a good restaurant, La Guixera. Specialties include the fish and noodle stew called fideua, and ox-tail stew, or rabo de toro.
etc, etc... a few pages later
The Garrotxa Volcanic Park
From Banyoles lakeside, if you head west towards Olot instead of north towards Besalú, you enter the Parc Natural de la Zona Volcanica de la Garrotxa (pronounced Garr-o-cha), a volcanic park of some 12,000 hectares, the most important such area in Europe. The road passes through a beautiful wooded landscape, climbing and dipping around craters, offering some lovely valley views. The 30 volcanoes have been dormant for 11,500 years, during which time the ash and lava have weathered into fertile soil whose luxuriant vegetation masks the contours of the cones.
The GE-524 begins just southwest of the lake - follow signs to Sant Miquel de Campmajor and Santa Pau. A couple kilometers into your journey, you'll come across signs for Les Estunes, with its eerily beautiful rock formations and chasms formed by earthquakes, the crevasse walls encrusted with fossils. Carrying on towards Olot you'll see signs on your left for Can Ginebreda, incongruous site of a highly unusual erotic sculpture garden with 90 bizarre and explicit works by Xicu Cabanyes. Access to the hilly garden is by way of a turnstile, two 100 pts coins to turn. Don't miss the interior of the igloo-like chapel to the left of the main entrance. Should you go in, you're likely to see Xicu at work on one of his obscene fantasies in his studio, the only building on the hillside. The modern building below the parking lot is the bar/restaurant Can Ginebreda (57 49 62) which is nearly as interesting to visit as the sculpture garden. This appears to be a hang-out for Xicu and others like him who have fled the big city for life in the Garrotxa. When the cook is there and is in the mood the work, the food is quite good, I'm told. But this funky place is essentially a watering hole for some of the big-city drop-outs you tend to find in mountain villages throughout Spain, from the Alpujaras near Granada to the Ancares in Galicia. The bar occasionally organizes activities, be it esoteric tarot-reading or the projection of classic films.
Winding your way towards Santa Pau, you'll pass restaurant Mas L´Arn. Don't make the mistake of stopping there. The place literally stinks, possibly due to a faulty sewage main which runs under the building. The two tiny hamlets that make up Sant Miquel de Campmajor are next, turn in to the right. (Sant Miquel is home to a soccer camp for to boys and girls aged 9 to 15. Call me for info.) Should you be in the mood for a pleasant detour through the countryside, the road into Sant Miquel de Campmajor gradually returns to the main road after passing some very pleasant landscape, including a couple of churches, a monastery (El Collell), and a trout-filled stream lined with enormous masias. The next little town, and where the detour rejoins the main road, is Mieres, with its huge bell tower, and good reasonably-priced restaurant: Puig Sa Llançà, (972 68 01 98) - just around to the left of the first restaurant you see off the roadway, roast duck with pears a specialty. We celebrated a fantastic réveillon here on New Year's Eve in 1997. Try their homemade sweet desert wine, Moscatel, or the liquor, Ratafia, that is home-made throughout the Catalan Pyrenees. Its a grappa based- sweet liquor with a pungent mix of anisette, nuts, coffee, herbs, and spices. Locals will assure that Ratafia production has to be supervised by witches, the brew left outdoors for a fortnight so that the magic powers of sun and moon achieve a potent blend...
Santa Pau is the central village of the volcanic zone, and presents a beautifully preserved fortified medieval precinct with a defensive perimeter of tall and almost windowless houses. Inside, the old town surrounds a large and very attractive double plaza, popularly known as the Firal dels Bous, or cattle market. Primitive wooden balconies drip with flowers and huge potted plants line the pavement arcades. Cobbled alleys converge on the thirteenth-century, arcaded Plaça Major, with its dark Romanesque church of Santa María, an enormous medieval building whose raison d'etre still escapes me.
In the square adjacent to Plaça Major, Plaçeta dels Valls, you'll find Cal Sastre, (68 04 11) a locally famous restaurant with a few tables outside under the arcade. Fresh mushroom salad, confit of wild boar, pigsfeet with chestnuts, fresh cheese Mató with home-made blueberry jam, etc. Menus are available at the Can Tona, c/ del Pont below Plaça Major, just before the bridge. The food here is good, served in a cellar dining room and accompanied by strong home-made wine.
Sant Pau has an important information center on the Plaça Major offering brochures and maps of the extensive and well signposted footpaths that thread through the volcanic zone. This area is a hiker's paradise, with a great variety of flora and fauna, and numerous cascades and natural swimming pools for a quick and cold summer dip. The tourist office can also inform you of the hot-air balloon rides, Vol de Coloms, (972 68 02 55) that depart nearby, (flight lasts from 11am to 1:30 pm, is accompanied with cava and coca, and with a post-landing country breakfast, all for a soaring $100 per person), mountain bike rentals (972 68 03 58), or helicopter tours of the volcanoes (972 68 03 58). Santa Pau hosts a gastronomic event in January celebrating the tender young peas (pèsols) which put Sant Pau on Catalunya's gastronomic map.
Continuing west after Santa Pau, you'll come across a large parking lot where many excursionists leave their cars while exploring the footpaths. The main path up to the tiny hamlet of Sa Cot, with its lovely medieval church, also passes the crater of Santa Margarida, famous for the 13th C chapel built in its center. Warning: this is a 20 minute walk up a small volcano. The last stretch up to the crater is very steep and can be hard going for those of you who are out of shape. Nevertheless, once you've reached the top, various easy paths take you through the heart of the volcanic zone, with lavic stone crunching underfoot and minor craters off to either side. From Sa Cot you descend into the Fageda d´en Jorda, a beautiful beech forest which boasts a remarkable range of flora and fauna. More than 1500 species of vascular plant have been recorded within the park, and a phenomenal 143 species of birds have been observed in the region. Forest dwelling mammals include beech martens, wildcats, genets, badgers and wild boar, as well as a number of small insectivores. Otters have also been sighted along the rivers. Note that its best to visit this area during the week. On weekends, especially in Fall, the park can be full of Barcelonian day-trippers.
There are several restaurants between Sant Pau and Olot. One of the best, at km 2.5 on the right-hand side of the GE-524 is Hostal dels Ossos, a huge and busy family restaurant set in a large masia with an ample vine-covered terrace and offering delicious grilled meats, or bareja de carn, at very reasonable prices. If you prefer a more out of the way setting, look for the turn off to the mountain village of Batet de la Serra, where there's a good and economical restaurant, called Font Faja, with hearty mountain fare served up by owner and cook, Dolores. Also in Batet you'll find the horseback riding club La Fageda (972 27 12 39). <