snack
Catalan snack food and sandwiches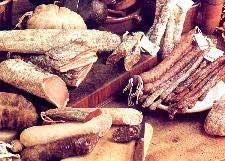 These are the types of food that a regular bar or café may have on offer at any time of day or night. Take a look at the offerings on the bar counter and/or ask for the entrepá (sandwich) or tapa of your choice.
bacallá a la llauna- oven baked cod doused with olive oil, garlic and paprika.
bikini- toasted ham and cheese sandwich.
bull- soft sausage made of pork, fat, spices, and in some cases, blood
callos- stewed tripe, often slightly piquant and served with slices of chorizo and morcilla.
cargols a la llauna- oven baked snails served with variety of sauces.
cheese- or queso, types are too numerous to list, but perhaps the most popular are queso Manchego, Cabrales, and Mahon. Ask for the local cheese in any small town bar.
chipirones- baby fried squid - most would argee that they are far more delicious than the more famous calamares.
empanada- crusted pies, originally from Galicia, with a variety of fillings.
ensalada rusa- Russian salad of boiled veggies in mayonaise and often topped with tunafish.
ensalada de verano- salad of potato, tomato, olives, tuna fish, and whatever else is lying around the kitchen.
exqueixada- shredded salt cod salad, with olives, tomatoes, onions, peppers, topped with olive oil
fuet- a long thin dried salami.
jamon- or cured ham, (American's know Italian prosciutto di Parma, although the upper range of the many different types of Spanish hams are considered the best in the world. Jamon or pernil del pais will be a fairly inexpensive local variety costing under 2,500 per kilo. Jamon Iberica, Pata Negra, and Jabugo are superior varieties that may cost as much as 15,000/kilo.
llonganisa de Aragon- a delicious cured sausage with fennel seeds, similar to Italian finocchioni salami.
morcilla- blood sausage, comes in many varieties, with rice, onion and pinenuts most common.
olivas- olives (aceitunas in Spanish) are a perennial favorite snack food, come in an enormous variety of types, and are automatically served with vermouth.
patatas bravas- cubes of fried potatos served with a mild hot sauce
peltruc- large pork sausage.
pernil- is Catalan for cured ham, or Spanish jamon.
pulpo a la gallega- octopus boiled in a brass caldron, and served with virgin olive oil and paprika. Delicious!
riñones al jerez- kidney stewed in sheery, a fantastic combination for those who like strong sensations!
sardinas a la plancha- skillet fried sardines, normally served topped with garlic and parsley.
Serrat- sheep´s cheese from the Vall d'Aran.
sobrasada- another soft spicy sausage with paprika
xoriço- (Spanish chorizo) spicy pork sausage with ground red pepper and often garlic... the true flavor of Spain!