dessert
Catalan desserts and sweets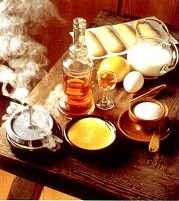 bisbalenc- barrel shaped puff pastry filled with sugary zucchini and covered with pine nuts, typical of la Bisbal.
bombons de músic- a tart of dried fruits and nuts. Usually served with a little spouted jug of sweet dessert wine, moscatel.
carquinyols- a hard almond cookie, typical of Arbúcies.
coca de Sant Joan- leavened coca with candied fruits, eaten mainly on the summer solstice celebrations of Sant Joan.
coca- popular pastry of unleavened bread, flat and oval shaped, with diverse ingredients and toppings, some sweet varieties with sugar, anisette, and pine nuts, to the tangy tarts of fried onion and green pepper.
crema catalana- a custard pudding sealed with a coating of burnt caramel
flaona- typical pastry of Figueres, stuffed with cheese, cream cheese, or whipped cream
flam- egg and vanilla custard.
grana de capellà- assortment of dried fruits.
mató- soft white cheese, often served with honey as dessert: mel i mató.
menjar blanc- almond milk pudding.
panellets- marzipan covered in various ingredients, pine nuts, candied fruit, coconut, etc.
pastís de pinyons- pine-nut tart.
tap- champagne cork shaped pastry, typical of Cadaqúes.
tarta- is Spanish for pie.
tortell- pastry in the shape of a large ring, covered with candied fruits, pine nuts, and stuffed with marzipan.
trefí- wine cork shaped pastry typical of Sant Feliu de Guíxols.
turrón- almond paste.
xuixo- cylindrical pastry full of whipped cream.