Gegants & Correfocs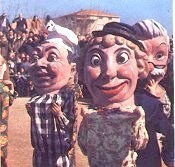 What are Gegants?
Gegants are the huge painted papier-maché figures, sometimes over 3 meters tall, with copious skirts hiding the performer inside. Gegants always appear in couples, often as king and queen, and are accompanied by nans and/or capgrossos, dancers with grotesque and occasionally lewd paper-maché heads, who act as attendants and jesters.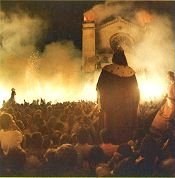 What is the Correfoc?
The Catalans love any excuse to have a correfoc, a riotous fiesta of sparklers, firecrackers, and roman candles, where colles de diables, or brigades of devils and dragons, dance threateningly to the strains of an accompanying percussion band as they weave through a startled and delighted public.