A brief introduction to Catalan cuisine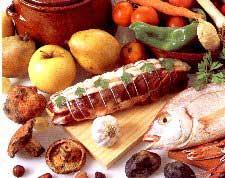 Catalunya produces an extraordinary variety of foodstuffs: wild mushrooms and game from the Pyrenees, the trinity of olives, grapes and wheat from the hilly heartland, all manner of fruits, vegetables, and nuts from the irrigated lowlands, rice and eels from the river deltas, and a great variety of fish and shellfish from Catalunya's 500 km of coastline.
Surely the most striking characteristic of Catalan cuisine is its bold mixing of apparently disparate ingredients. Some have explained the genesis of this culinary ingenuity as harking back to Medieval times, when a highly complex system of barter between villages resulted in increased specialization and a wider variety of foodstuffs on offer. Festivals that celebrate this interchange between villages are still celebrated all over Catalunya, our favorite being the one in Barcelona's fishermen's quarter, Barceloneta, where guilds of burly (and mostly drunken) sailors with all kinds of edibles pinned to their clothing - breads, sausages, hams, cheeses, and maybe a box of cornflakes - dance in a very strange swinging motion through the narrow streets to the strains of Carnival sambas.

A quintessentially Mediterranean cuisine, Catalan recipes are a legacy of prolonged contact with the peoples from all corners of the mare nostrum, especially Greeks, Romans, Arabs, and Sicilians - not to mention plenty of influences from southern France. Catalan chefs continue to experiment, as you can see in some of the recipes we have listed, which are representative of the Catalan and Spanish dishes you´re likely to come across during your stay.