Catalan eating habits
Catalan eating habits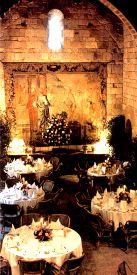 Most visitors to Catalunya - or indeed any part of Spain - are astonished at the sheer number of places where one can get a meal at any time of day or night. A multitude of restaurants, bars, and snack bars offer sandwiches, tapas, combination platters, and no-frills set-price meals at incredibly low prices.
All but the fanciest restaurants are required by law to serve an economical set-price menu at midday - normally consisting of first course, entrée, dessert, bread, and a fairly prosaic bottle of vino de la casa - all for as little as 8 Euros. But you should know that although menus offer hearty grub at great value, they tend to repeat the same basic and universally acceptable dishes day-in, day-out. You´ll not get to know authentic Catalan or other Iberian cuisines limiting yourself to just eating menus. You simply cannot serve fresh seafood, choice cuts of meat, and quality wines for under 10 Euros a full meal! Yet it's amazing how many visitors to Spain eat only cheap menus, never spending more than what a sandwich might cost in their country of origin, and then go home disparaging Spanish cuisine!
While in Spain, try to strike a balance between tapas, menus, and meals at quality restaurants. Platos combinados, I think, are best avoided - unless you have a ball with cholesterol. In recent years, more and more restaurants are offering a menu degustación - a sort of taster's choice menu. This is a fairly reliable way to try house specialties - with a good bottle of wine - for between 30 to 50 Euros per head.
In typically Mediterranean fashion, meals in Catalunya are often veritable culinary marathons, with a great profusion of dishes which you can share with your companions. A good meal amongst friends and family can last several hours, the most cherished part of which is the long sobretaula - the relaxed post-meal chat - usually accompanied by expresso coffee, liquors, and perhaps a Havana cigar (smoking is now prohibited in restaurants and bars).
Catalans have their meals considerably later than is usual in other European countries, and it would be a good idea for you to get accustomed to local schedules. Light continental breakfasts of coffee (tea is only beginning to become popular) and a croissant are served until noon. Most workers take a break for an esmorzar - a sandwich break - at mid-morning. Lunch is served from 1 to 4 pm, dinner between 9 and 11:30pm. On weekends, meals get started and finish even later.
Service is usually courteous, if not genuinely friendly, so don´t be put off if the waiter shows an interest in your country of origin or what you´ve been doing while in Catalunya. A smile and a friendly greeting on your part will go a long way to ensure good service, and waiters are beckoned to with a 'si us plau' or 'por favor'. Waiters in Spain earn a salary, and are not necessarily working for tips, so they don´t tend to bow and scrape the way waiters working exclusively for tips do. You needn't automatically chip in a 15-20% gratuity as in, say, the US. But it is customary to leave a token of one´s appreciation, and gratuities here are seen as a genuine recognition of good service.
I should mention that for menu meals you are usually expected to use the same silverware for first and second courses, so don't be surprised if the waiter plonks down your silverware before carrying off your plate. Locals use bread to wipe clean the silverware between courses.