Catalan Geography
Catalonia is a small country measuring nearly 32,000 square kilometers (12,000 sq. miles.) in the Northeast corner of Spain. With over 500 kilometers of Mediterranean coastline, stretching from the French border to the Ebro River Delta, Catalonia boasts an extraordinary variety of landscapes packed into a relatively small area (three quarters the size of Switzerland).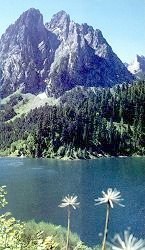 To the north, the jagged peaks and alpine meadows of the Pyrenees offer year-round sport facilities for skiers and hikers alike, as well as some rafting in the summer months. From the snow-peaked Pyrenees one descends through lush valleys of pine and fir trees, skirting crystal clear lakes and mountain ranges of unbelievably capricious shapes, such as the extinct volcanic parklands around Olot in the Garrotxa parklands, and further south, the stone spires of legendary Montserrat - a mountain range so unique it has been declared a conservation area by UNESCO. Montserrat is supposedly where the legendary Ring is finally buried in the Wagnerian saga.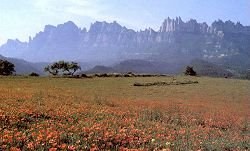 The mountains gradually give way to Catalonia's fertile interior, with rolling hillsides of vineyards and wheat fields interrupted by long striations of fossil-encrusted ridges. To the southwest, the land becomes flatter and more arid - the color of the earth changing from hues of burnt umber to ashen gray. Thanks to a hardworking peasantry (and irrigation from the Ebro river) this sun-baked region produces excellent wine, olive oil, and fruit.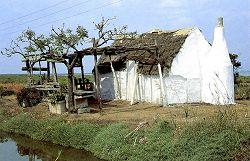 Ebro Delta is one of the finest remaining wet lands in the Western Mediterranean; its marshlands and rice paddies a protected wildlife reserve teeming with migratory birds, including flamingoes and purple heron. To the north, the Costa Dorada, or Golden Coast, with its seemingly endless strip of wide beaches backed by whitewashed fishing villages, leads to Tarragona, picturesque Roman capital of Northeastern Spain, with its important ruins and lovely old town and port.
Between Tarragona and Barcelona are numerous coastal resorts, like lively Sitges, backed by one of Europe's most important wine producing regions, the Penedès, origin of 95 percent of the world's cava production. This area is also famous for its concentration of important Cistercian monasteries, most notably: Santas Creus, Poblet, and Vallbona de les Monges. North of Barcelona, an almost uninterrupted stretch of coastline with numerous marinas leads to Blanes, where the Costa Brava begins.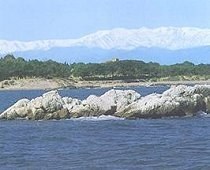 The Costa Brava is rightfully famous for its breathtakingly beautiful coastline, where wide beaches of golden sand and crystal clear waters alternate with rocky promentories and little coves backed by sheer cliffs topped with pine and oak forests. The interior of the Costa Brava is every bit as stunning as the coast (and far less affected by tourism), with pristine medieval villages set in lush, typically Mediterranean landscapes. A short drive to the east and you are in the wooded hills of the pre-Pyrenees, with trout-filled streams feeding environmentally protected lakes - like the one in Banyoles - offering a welcome alternative to the coastal beaches.
The road network throughout Catalonia is excellent, and along with the land's topographical diversity, one should keep in mind that cultural traditions, architecture, as well as gastronomy, differ from region to region. In short, it is well worth your while to travel around all of Catalonia, and some of the more interesting routes are described in the next section.